NOVOMATIC has set itself the goal of being an industry pioneer when it comes to social and ecological responsibility.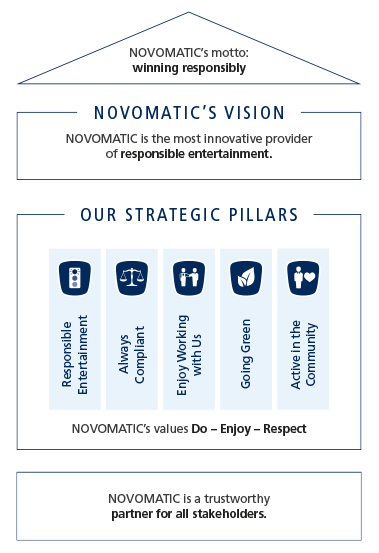 CR-Strategy
The guiding principle is at the heart of NOVOMATIC's CR activities: "Success can only be achieved by assuming responsibility ("Winning Responsibly")." The vision is to be the most innovative and responsible provider of Responsible Entertainment worldwide.
The strategic fields of action form the core of the long-term CR strategy.
Within these pillars, goals and measures are set to help NOVOMATIC develop in line with this vision.
Meaningful and measurable key performance indicators (KPIs) have been defined to manage CR development and communicate it to external stakeholders. In this way, CR performance is clearly measurable and transparent, similar to financial performance.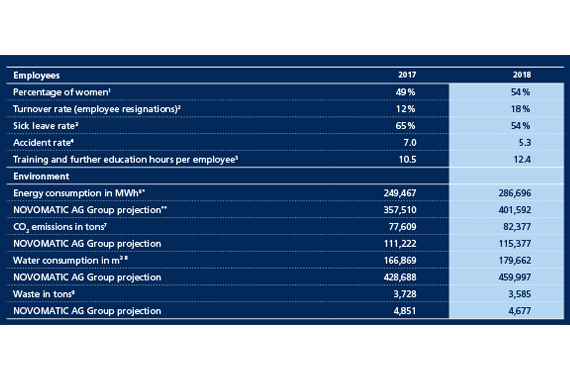 Non-financial indicators
The following non-financial indicators are used for management purposes and show the development in the strategic fields of action.
 
All figures include the significant companies of the NOVOMATIC AG Group included in the non-financial report.
* Total values represent the directly recorded values of the core companies of the extended scope 2018.
** NOVOMATIC AG Group provides the sum of the directly recorded data and extrapolation for the remaining companies in the scope of consolidation.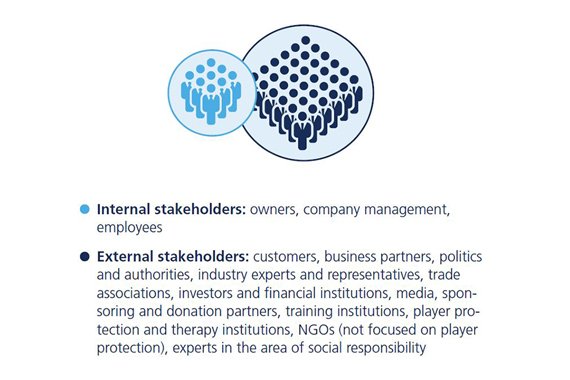 Stakeholder dialogue
Transparent and open dialog with all company stakeholders is a central element of NOVOMATIC's CR activities.
NOVOMATIC communicates with their stakeholders across a variety of channels, for example direct conversation, working groups, workshops and events, through reports, via the website or social media.
The company actively exchanges information on CR-relevant topics with the following stakeholders, among others:
American Gaming Association (AGA) and Responsible Gambling Collaborative
European Gaming and Amusement Federation (EUROMAT) and the Working Group on Social Responsibility
United Nations Global Compact (UNGC)
respACT – austrian business council for sustainable development
Environmental, Social and Governance Rating Agencies
Local and international player protection experts and research institutions
As well as with numerous local industry associations and interest groups