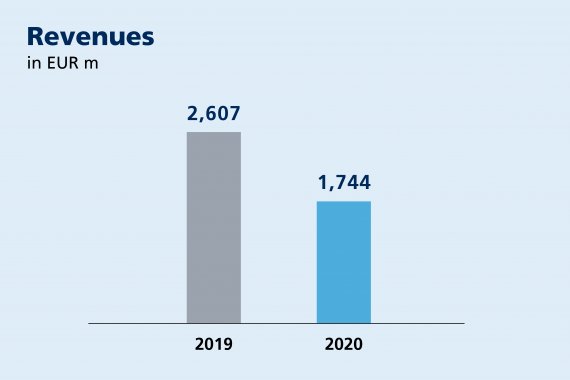 Revenues
In the 2020 fiscal year, the NOVOMATIC Group's revenues were EUR 1,743.6 million, compared with EUR 2,607.3 million in the same period of 2019. The revenue loss of EUR 863.7 million (-33.1 percent) resulted from almost every market: Italy (EUR -199.3 million), Germany (EUR -174.4 million), Eastern Europe (EUR -142.4 million), Austria (EUR -112.2 million), Other markets (EUR -97.8 million), United Kingdom (EUR -89.1 million), Spain (EUR -67.4 million), and the Netherlands (EUR -39.5 million). The depth of the lockdowns, which brought slot arcade, casino and betting site operations to a virtual standstill for around four months, meant that the online segment was able to generate significant revenue growth (EUR +58.3 million).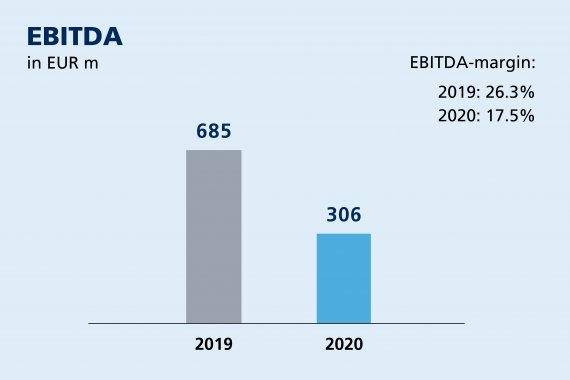 EBITDA
Earnings before interest, taxes, depreciation and amortization (EBITDA) came in at EUR 305.9 million at the end of 2020, thus remaining clearly positive despite the COVID-19 pandemic and the associated temporary closure of almost all operational sites. EBITDA in 2019 amounted to EUR 685.3 million. The EBITDA margin in 2020 was 17.5 percent, 8.7 percentage points below the previous year's level.
Equity Ratio
Equity decreased by EUR 344.9 million (-24.6 percent) to EUR 1,055.2 million during the reporting period. The revaluation reserve item decreased by EUR 15.9 million (-36.6 percent) to EUR 27.4 million, mainly due to the sale of the shares held in Casinos Austria AG. Retained earnings fell by EUR 259.2 million (-23.5 percent) from EUR 1,103.5 million in 2019 to EUR 844.3 million in 2020. The currency translation adjustment item decreased by EUR 27.1 million to EUR -97.0 million.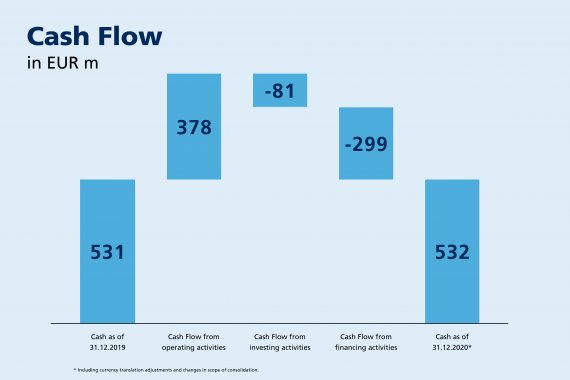 Cash Flow
Cash flow from operating activities in 2020 amounted to EUR 378.0 million, which was EUR 228.7 million lower than in the previous year (EUR 606.7 million), a decrease mainly due to the COVID-19 pandemic, causing operating income to be EUR 414.7 million lower than in 2019. The largest offsetting, and thus cash-increasing, effect was the decrease in the change in receivables and other assets of EUR 126.6 million, driven mostly by improved receivables management and the COVID-19-related business performance in 2020. The EUR 34.2 million increase in depreciation and amortization, attributable to various one-off effects, and lower payments for income taxes as a result of the lower earnings also had a compensating effect.
Cash flow from investing activities amounted to EUR -81.3 million in the reporting year, a decrease of EUR 7.3 million compared with 2019 (EUR -74.0 million). Behind this decrease is the sale of the subsidiaries in the United Kingdom and Croatia in the previous year, causing proceeds from the sale of consolidated companies to be EUR 138.7 million lower in 2020 than in 2019. Proceeds from the sale of fixed assets also fell in 2020 by EUR 41.1 million due to there being less appetite among NOVOMATIC's customers to invest, while cash outflows for the acquisition of consolidated companies increased by EUR 39.3 million compared with the previous year. These effects were partly offset by the sale of the shares held in Casinos Austria AG, which resulted in an increase in proceeds from the sale of financial assets of EUR 107.7 million in 2020. Another offsetting effect could be seen in the reduction in capital expenditure on intangible assets and property, plant and equipment of EUR 80.6 million due to the 2020 lockdowns lasting several months.
Cash flow from financing activities saw a year-on-year increase from EUR -551.4 million to EUR -299.2 million in the 2020 fiscal year. This increase of EUR 252.2 million stemmed almost exclusively from the repayment of a bond amounting to EUR 246.0 million in the previous fiscal year.